Ethiopia: A model of African food aid is now in trouble
The government's food giveaway may undercut a successful cash aid program.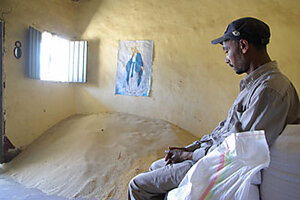 Nicholas Benequista
Farmers in Ethiopia are better off now than they were four years ago, in part due to better-than-average rains and rising grain prices globally. But there's another reason: Africa's largest beneficiary of foreign aid has shifted from food aid to cash assistance.
Ethiopia is seen by aid organizations as a model of how to best help hungry nations. But in an effort to prevent food riots in cities, the government here is again relying on foreign food aid and now prohibits foreign aid groups from buying grains from local farmers. In effect, it may be undermining its own success story.
At a gathering of farmers about 40 miles outside Addis Ababa, one young man bemoans how rising food prices have yet to alleviate his hardship. Rent, fertilizer, transport, tools: Costs rise as fast as grain prices and whittle down his profits, he says.
The head of the cooperatives union, Demere Demissie, replies with a comment that would have been unimaginable just a year ago.
"Think of all the poor people in the towns," he says with a fatherly tone. "At least you can feed your family, even if only with some toasted barley. In the cities, there are people that only eat once every two days."
The perception is spreading in Ethiopia that the global spike in food prices may help once destitute farmers, while scores of city dwellers may be pushed into poverty.
Prime Minister Meles Zenawi recently made the exact case to parliament. But analysts here say the assumption ignores that one-third of the farmers are net consumers of food, selling their entire crop right after harvest. Current measures, critics say, threaten to reverse recent progress in the countryside, and with a drought looming, could even set the stage for a humanitarian crisis.
---