Darfur rebel raid stirs Sudan-Chad war
The JEM rebel group – which Sudan accuses of being backed by Chad – reached the outskirts of Sudan's capital, Khartoum, for the first time this weekend, raising concerns about a proxy war.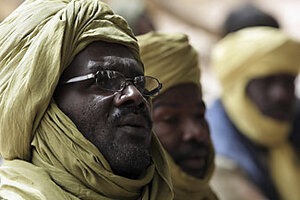 Stuart Price/Albany Associates/Reuters
Sudan on Sunday cut diplomatic ties with its neighbor Chad, which it accuses of backing a Darfur rebel assault on Sudan's capital, Khartoum, over the weekend.
Although the Darfur rebels have little chance of toppling Sudan's regime, the advance is "the first time anyone has managed to take civil war to the doorstep of the [Sudanese] government, so it's a propaganda victory of sorts," says Richard Cornwell of the Institute for Security Studies in South Africa.
The move by the Justice and Equality (JEM) rebel group may expose the fragility of the Sudanese government by putting pressure on existing divisions, say analysts. But it also gives Khartoum a reason to ramp up its latest offensives in Darfur and raises the prospect of a border war between Chad and Sudan; both believe the other is using rebels as proxy fighters.
"The government has already begun to manipulate this," says Salih Mahmoud Osman, a Darfuri member of parliament, explaining that Khartoum now has the political cover it needs to step up its offensives in Darfur and to stall elections. "They are already blaming Chad, a number of people have been arrested, and they can say the country is under external threat."
---