Displaced Kenyans balk at government push to go home
Kenya has begun a move to resettle the tens of thousands of people who fled ethnic clashes months ago.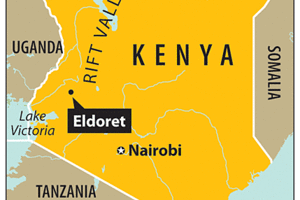 Rich Clabaugh
Row after row of white tents bustle with life. Women wash clothes in foaming buckets, smoke from cooking fires wafts into the air, and children play in the narrow alleys between the shelters.
But it is not supposed to be like this. A week into a government program to return home thousands of Kenyans who fled ethnic clashes that killed more than 1,500 in the wake of Kenya's disputed Dec. 27 elections, the sprawling camp in the Rift Valley town of Eldoret should be emptying.
Rachel Wanjiru Njuguna speaks for many when she says she has no intention of going home despite the arrival of rains that make life in the camp miserable.
"We are not ready," she says, looking up from a bucket filled with washing. "The problem is security. Nothing has changed since we were forced to leave."
She arrived with her two young children in January. She does not think she will leave for at least another couple of months.
About 16,000 people are still packed into the camp, one of several scattered throughout the area.
Elsewhere, people have begun the process of heading home to rebuild the lives that have been put on hold.
Buses, Army vans, and cattle trucks provided by the government have been packed with families clutching whatever belongings they managed to salvage before they fled months ago.
The $460 million program is targeting the 168,000 people living in camps during its first two weeks. It will be followed by a second phase directed at hundreds of thousands more sheltering with relatives.
---
Follow Stories Like This
Get the Monitor stories you care about delivered to your inbox.