Zimbabwe's pro-Mugabe war vets draw hard line
In a rare interview, militia leader threatens to take over more white-owned farms and businesses.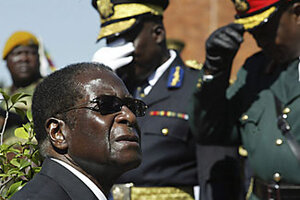 Philimon Bulawayo/Reuters
JOHANNESBURG, South Africa; and BULAWAYO, ZIMBABWE
– The man behind Zimbabwe's most feared militia, the War Veterans, has all the credentials of a dedicated fighter except one: He's never fought in combat.
Graduating from boot camp in Angola just after Zimbabwe's "war of liberation" against white-minority rule ended in 1980, Jabulani Sibanda soldiered on as an organizer for President Robert Mugabe's ruling party, the ZANU-PF.
It was Mr. Sibanda who led so-called war veterans to take white-owned farms by force, starting in 2000. Today, Sibanda – one of the hardest hard-liners in the ruling ZANU-PF – is blamed for orchestrating attacks on opposition supporters in the lead-up to a runoff election on June 27.
"We are definitely winning," says a confident Sibanda, in an exclusive interview in Bulawayo, Zimbabwe. Despite South African-sponsored talks held last week, Sibanda says there is no possibility of a power-sharing deal between Mr. Mugabe's party and the opposition Movement for Democratic Change.
"There is no room for compromise," he says. "Where do people get this term 'government of national unity?' As far as I see it, people who are opposing each other will never work together."
---