Nigerian oil: Anger in the delta over who gets paid
Borrowing a page from militants, a village chief threatens Shell over naming rights for the country's first well.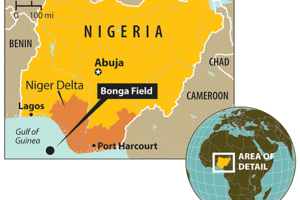 SOURCE: AP/Rich Clabaugh–STAFF
When foreign prospectors struck oil deep below the red earth and lush green forest of southern Nigeria, local residents held a wild all-night party that still brings toothless smiles to the wrinkled faces of village elders.
Decades later, a peeling signboard at Nigeria's rusted oil well No. 1 bears the name Oloibiri, after this riverside village in southern Nigeria. But villagers in nearby Otabagi say the well is on their land and they want the local Royal Dutch Shell unit, to rename it.
What's behind a naming-rights dispute after so many years? The villagers suspect that high oil prices mean that Shell may reopen the well – shut down in 1977 – and that could mean more cash payments.
The village dispute is a microcosm of many larger fights here over getting a "fair share" of Nigeria's oil wealth. On Thursday, a militant group launched a rare attack on a Shell offshore oil installation. Shell told the Associated Press that it had shut down production from the Bonga Field, which normally produces about 200,000 barrels of crude per day.
The field accounts for about 10 percent of Nigeria's current daily output of around 2 million barrels per day – already significantly down from the amount produced before years of militant attacks degraded the oil infrastructure.
The Movement for the Emancipation of the Niger Delta, a militant group, told the Monitor in an emailed statement that they had kidnapped an American worker from a vessel they encountered while returning home from the attack. The US State Department confirmed that an American citizen had been taken hostage.
Meanwhile, the two squabbling villages make vague threats toward Shell, too, fueled by a similar sense of inequity.
---