Will Africa take action against Zimbabwe's Mugabe?
The African Union is expected to discuss the issue in Egypt Monday, one day after Mugabe declared a 'sweeping victory' in Friday's presidential runoff, which was widely condemned as a sham.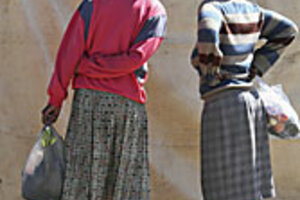 Tsvangirayi Mukwazhi/AP
Johannesburg, South Africa; and Harare, Zimbabwe
President Robert Mugabe has long been able to count on African leaders to sympathize with his goals of ridding Zimbabwe of the vestiges of white colonial rule.
But with his brutal tactics in what's widely seen as a sham runoff presidential election Friday, Mr. Mugabe may have squandered his last shred of credibility even in Africa.
Monday, at a meeting of African leaders in Egypt, Mugabe faces a critical personal test. Will the African Union join the international community in pushing for new sanctions, even military intervention, in Zimbabwe?
"We are saying we want the African Union to send troops to Zimbabwe," Kenya's Prime Minster Raila Odinga said on Saturday. "The time has come for the African continent to stand firm in unity to end dictatorship."
This call is echoed by retired South African Archbishop Desmond Tutu, while East African nations are calling on Mugabe and his opponents to negotiate a peaceful power-sharing deal.
Mugabe, who lost the first round of elections on March 29 against the opposition leader, Morgan Tsvangirai, 47 percent to 43 percent, ran unopposed on Friday after Mr. Tsvangirai pulled out of the runoff last week. Tsvangirai says that Mugabe's supporters, including the Army, the police, and private militias, have killed some 80 of his supporters, injured or tortured thousands more, and displaced at least 20,000 in the lead-up to the election.
---