Why South Africa's Mbeki won't rein in Mugabe
Even in Africa, pressure is mounting for Thabo Mbeki to increase pressure on Zimbabwe's president.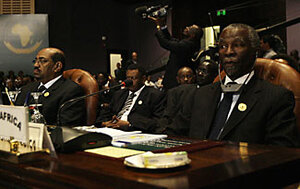 Nasser Nasser/AP
JOHANNESBURG, South Africa
– As the world grows more anxious to solve Zimbabwe's political crisis, all eyes focus on one man: South African President Thabo Mbeki.
The leader of the region's economic power has the best chance of brokering a deal between President Robert Mugabe and opposition leader Morgan Tsvangirai to avert further violence in the wake of an election widely condemned as a sham.
Yet African leaders wrapping up a two-day summit in Egypt are growing more critical of Mr. Mbeki's failure to rein in Mr. Mugabe, with some calling for Mbeki to step up his mediation or step aside.
So what's preventing Mbeki from confronting Mugabe?
The cerebral, reclusive leader has never explained his approach. But the Monitor answers five key questions that help show why he sticks to the path he's chosen.
What is Mbeki's relationship to Mugabe?
Mbeki met Mugabe in 1980, when Mugabe had just taken control of the new nation of Zimbabwe from white colonial rulers.
Mbeki was an exiled member of the African National Congress (ANC), and Mugabe set the tone of their relationship at that moment, the older brother instructing the younger brother on how a successful liberation struggle leader should rule.
---