Sierra Leoneans look for peace through full truth about war crime
Human rights activist John Caulker looks beyond the high-profile and costly prosecutions to village-level reconciliation.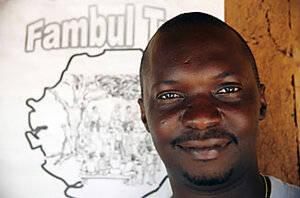 Sara Terry/polaris
Little but its history distinguishes Bomaru from other villages scattered across Sierra Leone's countryside. A quiet place with mud houses the same color as the dust kicked up by the occasional passing vehicle, it would seem, on an ordinary day, impoverished and washed out.
But today, women dress in freshly laundered wrappers ablaze in color; men wear regal Muslim gowns or their best T-shirts. An anonymous few sweat beneath layers of straw and fabric, in costumes like something from Sesame Street: They are – or are dressed as, depending upon your belief system – the village's local devils, whose appearance signals celebration; their rapid footwork leads a dancing procession to the village center.
Nearly 800 people from Bomaru and nearby villages have gathered for Fambul Tok, a grass-roots reconciliation initiative John Caulker wants to bring to every Sierra Leonean village. The phrase is Krio (English-based creole) ­for "family talk," the old way of resolving disputes through conversations around bonfires.
Mr. Caulker, whose human rights organization, Forum of Conscience, developed Fambul Tok over the past three years in villages across Sierra Leone, wants the bonfire to be a space for confession and forgiveness for war crimes. Bomaru is the first test of whether the idea works –­ or whether anyone even cares.
Dozens of people have come to Bomaru 17 years to the day after the war began here in March 1991. They're here to recount crimes they committed after their abductions and forced conscriptions in the 1990s into the Revolutionary United Front (RUF), a rebel group from neighboring Liberia infamous for chopping limbs off civilians. But by the time the bonfire is lit and the crowd settles in for storytelling, they've changed their minds.
---