From noses to hips, Rwandans start to redefine beauty
A history of identity politics – and genocide – is challenged by university beauty pageants.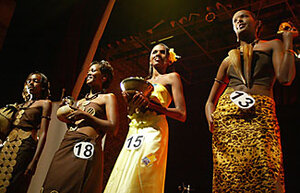 timothy Kisambira/Focus
Sandra Uwimbabazi knows runways – she's modeled for years – but she stumbled on a recent Saturday here.
A tall, slender young law student, Uwimbabazi was one of eight women vying to win Rwanda's most high-profile beauty competition.
On her second lap around the stage, she misstepped in her high heels – but didn't fall. The graceful save as much as her beauty may have won her the title. Poise, some observers said afterward, is now more important than being pretty.
The comment reflects a tension over defining Rwandan beauty. Here the shape of one's nose, hips, or eyes are overlaid with political and historical meaning. During the 1994 genocide, "the first fact was to see the nose to tell if this is a Tutsi or this is a Hutu," says Cyrille Nshimiyimana, a second-year medical student, who was among the 3,000 people packed into the National University auditorium for the Miss Nyampinga contest.
As the nation moves beyond the tragic events of 1994, traditional standards of Rwandan beauty may be changing – or at least are being challenged.
"Beauty contests are used to assert a national identity, particularly in instances where and in places where a national identity is problematic," says Maxine Leeds Craig, an associate professor of sociology at the University of California-Davis and author of "Ain't I a Beauty Queen?: Black Women, Beauty and the Politics of Race."
The pageant stage is a space Rwandans are using to serve two national objectives: advancing gender equality and fostering national unity.
---