Zimbabwe crisis talks adjourn amid rumors of a breakdown
Lead mediator and South African President Thabo Mbeki, however, insisted Tuesday that the talks were going well.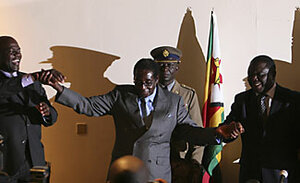 Tsvangirayi Mukwazhi/Ap
It's been a little more than one week since President Robert Mugabe shook the hand of his bitter rival, Morgan Tsvangirai, in what was billed as a historic first step toward a power-sharing government for Zimbabwe.
But negotiations – which are closed to the media – were adjourned on Tuesday amid reports that the two teams could not agree who would sit at the top of a unity government.
Lead mediator and South African President Thabo Mbeki insisted that the talks had not broken down, but the antagonism between Mr. Mugabe's ZANU-PF party and Mr. Tsvangirai's Movement for Democratic Change (MDC) is so strong on such a wide array of issues that negotiators should prepare for a protracted struggle, experts say.
"The polarity on sanctions, international interference, recognition of Mugabe as the legitimate leader, the cessation of political violence, including the dismantling of terror bases, the polarity of the Constitution, these are heavy issues," says John Makumbe, political science lecturer University of Zimbabwe.
As the talks were going on in Tshwane, South Africa, as the capital is now called, the ZANU-PF last week declared it will not accept a deal that fails to recognize Mugabe's reelection in the June 27 runoff election – which was widely condemned as fraudulent – or seeks to reverse the land reform program that redistributed white-owned farms to blacks.
These conditions, agreed at a ZANU-PF politburo meeting last Wednesday, could dim prospects for a deal, analysts say.
---