In Kenya, two protagonists and the conciliators
In January, one of Africa's most stable democracies was violently ripping itself apart. How was it saved? In Part 3 of a four-part special report, the key players tell what happened.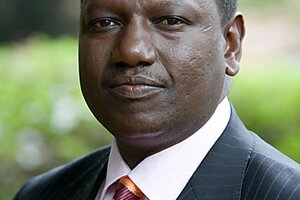 GERD UWE HAUTH/DPA/NEWSCOM
William Ruto might seem an odd choice as a peace negotiator. He has the burly frame of a boxer, and a political reputation to match.
In the weeks before he sat down at Kenya's peace table, he was known for his impassioned campaign speeches in his home district in the Rift Valley. Mr. Ruto's critics, including Human Rights Watch, accuse him of igniting ethnic violence in the region where some of the worst fighting occurred.
His campaign slogan was "majimbo!" It's a Swahili term that his Orange Democratic Movement (ODM) party interprets as merely "regionalism" – a devolution of power to the states or provinces.
"The majimbo wave is here and it is unstoppable," Ruto told a jubilant crowd in the town of Kiserian on Oct. 17, 2007. "It is the only way to ensure equitable distribution of resources."
But for many of Ruto's supporters, majimbo has an ominous connotation: giving control of key regions to tribal majorities. In the Rift Valley, that meant giving Ruto's own Kalenjins the right to make all local decisions, and expel ethnic minorities back to their own "jimbos" or homelands.
Today, Ruto says the violence after the Dec. 27 election was "spontaneous." The trouble, he says, was sparked by persistent irregularities, accusations of vote-tampering, and the swift swearing in of President Kibaki by his handpicked electoral commissioner just two days after the election.
---