Sudanese: 'What Arab-African rift?'
In Sudan's Arab north, Arabs marry, go to school, and work side by side with Africans from Darfur. The divide portrayed in the West means little to people here.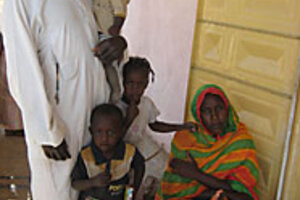 Heba Aly
Ask Abbas Adam Ibrahim whether he is Arab or African, and he does not quite know how to respond. "Both," the Sudanese man says, after slight hesitation.
Mr. Adam comes from the Fur tribe, of Darfur – commonly understood to be an African tribe, under persecution by Sudan's Arab-dominated government.
Last month, the International Criminal Court's chief prosecutor indicted Sudanese President Omar al-Bashir for genocide and crimes against humanity in Darfur, saying "evidence shows that al-Bashir masterminded and implemented a plan to destroy in substantial part the Fur, Masalit, and Zaghawa groups, on account of their ethnicity."
But for Sudanese Arabs and Africans coexisting peacefully outside Darfur, these racial distinctions are not so clear.
Adam, for example, believes he has some Arab blood.
During the drought of the early 1980s, Adam left Darfur for the mostly-Arab north of Sudan, in search of work and a better life. He settled in Dongola, a city more than 300 miles north of the capital, Khartoum, and has lived among Arabs ever since. He even married one and now has four "mixed" children.
"We live here peacefully and there are no problems," he says. "We live as if we are natives here. We feel that this is our country and this is our town."
---