In Nigeria 'oil war,' militants step up attacks
MEND militants have united against foreign oil interests in the wake of a military crackdown.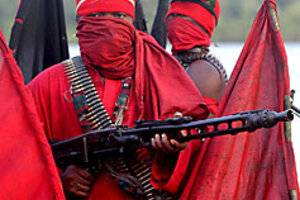 EPA
A rare military raid on a militant camp in Nigeria's oil-rich Niger Delta last week points to a new, tough approach by the Nigerian military that could force the region into a deeper state of anarchy.
Militants have responded to the pre-dawn raid with a series of deadly counter attacks on oil facilities and military positions. The delta's most prominent rebel group, the Movement for the Emancipation of the Niger Delta (MEND) issued a statement Sunday via e-mail declaring an "oil war."
"MEND has declared an oil war in response to the unprovoked aerial and marine attacks on a MEND position in Rivers state of Nigeria on September 13, 2008 by the armed forces of Nigeria," read the statement.
MEND emerged as a fighting force in the delta almost three years ago. Since then, it has sought to portray itself as a unified political militant group. But the reality has been somewhat different with MEND operating as an umbrella organization for a host of armed gangs. Their coordinated attacks against oil infrastructure and personnel have slashed Nigerian oil output by a fifth.
Following the Sept. 13 military attack, formerly disparate gangs are looking increasingly unified, raising fears that long-running unrest in the delta could hit new levels. "When it comes to a common enemy, we all help each other," says a senior MEND leader, who declined to be identified. "The Army is not as formidable as they say, and we are ready to take them on."
---