Persistent corruption threatens Liberian stability
Despite President Johnson-Sirleaf's tough rhetoric on the international stage and the country's modest progress in global rankings, there is growing concern back home.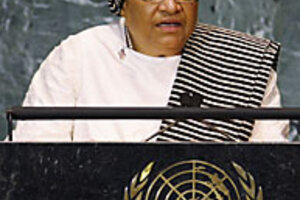 mike segar/reuters
At dusk, streetlights come on in the Liberian capital, Monrovia, making it safer to walk the crumbling pavements. Before the election of Ellen Johnson-Sirleaf as president in 2006, there had been no electricity for 15 years. On the surface, Liberia looks like a model for postconflict development. But widespread corruption threatens to undermine recent gains.
This week, a report released by Berlin-based watchdog Transparency International (TI) ranks Liberia 42nd worst in a list of 180 countries on perceived levels of public-sector corruption, an improvement on its 2007 rank of 23rd worst.
"Corruption is the most serious threat to our growth and our stability," says Thomas Nah, head of the local chapter of TI in Monrovia. Previous TI reports have described Liberian corruption as "rampant," on par with Kenya's and Zimbabwe's.
With the help of billions of aid dollars from the United States and Europe, it was hoped that this West African country – founded by freed American slaves in 1822 and now led by Africa's first elected female head of state – would put its corrupt and bloody past behind it. But for all President Johnson-Sirleaf's talk on the international stage about fighting corruption, there are growing voices of concern back home.
---