Stolen tanks add urgency to piracy fight
U.S. warships surrounded the hijacked MV Faina and its military cargo off Somalia's coast Monday.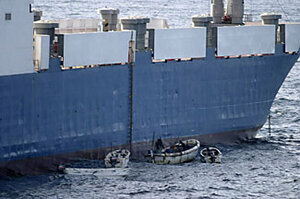 REUTERS
American and European warships surrounded a hijacked Ukrainian freighter anchored off the coast of Somalia Monday, after the MV Faina – with its cargo of Russian tanks, antiaircraft guns, and rocket-propelled grenades – was snatched last Thursday by pirates apparently linked to Somalia's Islamist movement.
The prospect of insurgents controlling a ship loaded with weapons seems to have prompted international navies to get serious about fighting piracy in what have become the world's most dangerous waters.
"The sheer volume of weapons on board, and the fact that it could even represent the turning point in the Islamists' war on land, could serve to force the international community to get serious, albeit rather later," says Bruno Schiemsky, a recent chairman of the United Nations' Monitoring Group on Somalia.
But shipping companies oppose a militarization of this crucial cargo artery, and experts say the problems at sea can't be fixed without first addressing the anarchic country's problems on land. "We can't solve the problem by destroying a couple of speedboats. It's not a sea problem it's a land problem," Mr. Schiemsky continues. "It needs a structural response, clearing their headquarters and bases."
The US Navy said Monday that destroyers, cruisers, and helicopters were deployed within 10 miles of the MV Faina and its 21 crew members hijacked en route to the Kenyan port of Mombasa.
"My crew is actively monitoring the situation, keeping constant watch on the vessel and the waters in the immediate vicinity," the ship's commanding officer, Curtis Goodnight, said in a statement.
---