African countries improve their governance, study shows
The Mo Ibrahim Index announced this week that 31 of 48 countries are run better.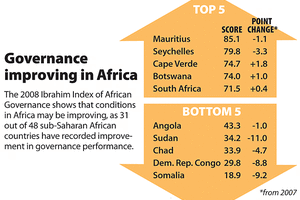 SOURCE: Mo Ibrahim Foundation/Rich Clabaugh–STAFF
If you just read the headlines, 2006 looked like another bad year for sub-Saharan Africa.
In Somalia, Islamists implemented a form of sharia law that empowered a 6-year-old boy to publicly stab to death the man who murdered his father.
In blatant disregard to international pressure, Sudan's government continued to support the notorious janjaweed Arab militia in its genocidal campaign against non-Arabs in the troubled Darfur region.
Yet out of the media spotlight, much of the rest of sub-Saharan Africa was quietly building better governments, according to the Mo Ibrahim Foundation, which uses a complex equation of annual indicators to monitor how well governments are performing in the region's 48 countries.
"The focus is quite understandably on the Somalias, the Kenyas, and the Zimbabwes, but behind the headlines, underneath all of that, a large majority of countries have seen a improvement in governance," says Hania Farhan, the foundation's director of research.
The organization's latest figures, based on data collected in 2006, points to an often overlooked phenomenon: the emergence of free and fair elections across sub-Saharan Africa.
The index measures progress in five categories – including a government's ability to establish peace and security, guarantee basic civil and human rights, oversee economic growth, and provide public services – but most the countries that scored higher marks this year did so by opening elections to competition.
---