Can a regional summit break Zimbabwe's crisis deadlock?
Leaders from Southern Africa began emergency talks in Swaziland on Monday.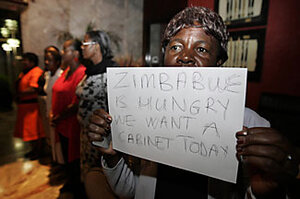 Philimon bulawayo/Reuters
Johannesburg, South Africa
In theory, Zimbabwe has a coalition government in which the two main parties have agreed to share power equally.
In reality, the troubled nation's top leaders have been deadlocked over how to share ministries for several weeks, worsening an economy where fuel and food are scarce and inflation stands at 231 million percent.
Last week, the long-ruling party of President Robert Mugabe, ZANU-PF, allotted itself all the chief financial and military ministries and left its opponents less-important ministries such as sports, arts and culture, and constitutional and parliamentary affairs. Opposition leader Morgan Tsvangirai has dismissed this as unacceptable and warned that the Sept. 15 power-sharing agreement is in jeopardy.
On Monday, regional leaders of the Southern African Development Community (SADC) kicked off an emergency summit in tiny Swaziland to get the two sides to agree on a joint cabinet and a fair allocation of ministries. Newly inaugurated South African President Kgalema Motlanthe – the current chair of SADC, who is seen as less sympathetic to Mr. Mugabe than former South African president and Zimbabwe mediator, Thabo Mbeki – is leading a delegation to the summit, prompting fresh hope that talks can be revived.
---