Congo rebels push toward key city
Civilians displaced by fighting pelted the UN compound in Goma with rocks on Monday. They blame UN peacekeepers for failing to protect them from rebels.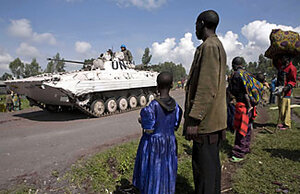 Reuters
Goma, Democratic Republic of Congo
– Congolese rebels continued their march toward the regional capital of Goma on Tuesday, driving panicky Army soldiers and tens of thousands of displaced civilians out onto the muddy roads ahead of them.
The battles in North Kivu Province were the latest sign of the disarray of the government of President Joseph Kabila, which had signed a peace agreement with dozens of rebel groups in the mineral-rich eastern provinces of the country that borders Rwanda and Uganda. But with that peace deal in tatters, Mr. Kabila this week has shaken up his cabinet and brought in a new set of hard-liners promising to deal firmly with the rebels.
In the cycle of war and dialogue that has beset the Congo for the past decade, killing nearly 4 million, it appears the country is tipping toward another round of war.
"The parties, both sides are much more belligerent, much more bellicose, and narrowing the space for dialogue in the future," says Anneke van Woudenberg, senior Congo researcher for Human Rights Watch, who recently visited Goma. "The process which led to the cease-fire in January was supposed to lead to ongoing talks on grievances between [the rebels] and the government. But the talks never took place. The lack of political dialogue is what led to this situation."
Mineral riches fuel war
---