Congo's riches fuel its war
A 12-vehicle United Nations aid convoy went behind rebel lines Monday.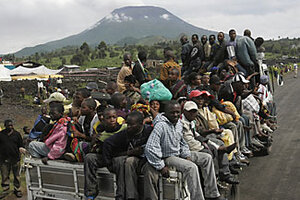 Karel Prinsloo/AP
Luntukulu, Democratic Republic of Congo
As a United Nations aid convoy rolled past rebel lines, top European, US, and UN envoys continue to discuss how best to prevent the latest crisis from spiraling out of control.
But many attempts to end Congo's conflict have failed, in part because wars that appear to be all about ethnicity are also about business. Hutu rebels claim to be taking refuge from a vengeful Rwandan President Paul Kagame, who blames them for the 1994 genocide of more than 800,000 Tutsis. But the rebels have built a militia by controlling the trade in tin, tungsten, and coltan.
The rebel army of Gen. Laurent Nkunda, which has now almost encircled the city of Goma, claims to be protecting his ethnic Tutsis, but he operates in areas rich in tin.
The rebels "are not in any areas that don't have minerals," says Joseph Mukind Kakez, a top government official in eastern Congo. He also blames his own government for its inability to control armed groups as well as ordinary Congolese, who buy and sell minerals from the armed groups, giving them the money to feed and rearm themselves and keep Congo's long conflict brewing.
"People ask: Who supports the armed groups?" he says. "It is we Congolese ourselves."
Efforts to stem the crisis
---