What does Congo's Gen. Nkunda want?
An ordained preacher and rebel group commander, Gen. Laurent Nkunda is threatening to draw other nations into a war in eastern Congo.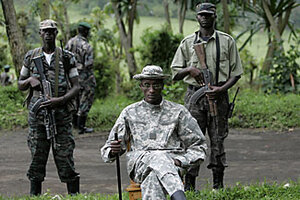 Karel Prinsloo/AP
Johannesburg, South Africa
Gen. Laurent Nkunda, the man laying siege to the eastern Congolese city of Goma, is full of contradictions. He's a successful military commander, almost unbeatable on the battlefield, but he has almost no political future. He's an ordained Adventist preacher, who court-martials soldiers who engage in rape; yet his military chief of staff is a wanted war criminal.
All he wants to do is talk, Gen. Nkunda says. But if the government of Congolese President Joseph Kabila refuses to talk, Nkunda threatens to widen the war and topple President Kabila. He welcomes African peacekeepers if they come as neutrals in a humanitarian mission, but if they fight alongside the Congolese Army (FARDC), he promises to fight them.
"If they come in and fight alongside the FARDC," he told Reuters news agency in a phone interview, "they will share the same shame as the DRC [Democratic Republic of Congo] government."
Nkunda is by no means the only warlord in the DRC, and human rights observers say the Congolese Army and other armed groups have committed as many atrocities against civilians as Nkunda's men have. But in the two months since Nkunda launched his latest foray against the Congolese government, hundreds of civilians have died in the crossfire, and more than 250,000 others have been displaced from their homes. It's war of a very personal sort, and the more territory Nkunda takes, the more determined the Congolese government seems to defeat him, rather than talk.
---