Who are Somalia's pirates?
A Monitor Q&A reveals who's behind the modern-day pirates, how they got so good at taking ships, and what's being done to stop them.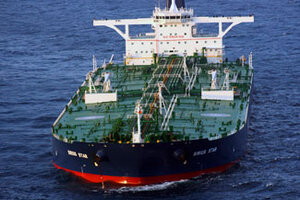 US Navy, Reuters
JOHANNESBURG, South Africa
– Today's pirates are mainly fighters for Somalia's many warlord factions, who have fought each other for control of the country since the collapse of the Siad Barre government in 1991.
Their motives? A mixture of entrepreneurialism and survival, says Iqbal Jhazbhay, a Somali expert at the University of South Africa in Tshwane, as Pretoria is now called.
"From the evidence so far, these primarily appear to be fighters looking for predatory opportunities," says Mr. Jhazbhay. They operated "roadblocks in the past, which were fleecing people as a form of taxation. Now they've seen the opportunities on the high seas."
Initially, one of the main motives for taking to the seas – working first with local fishermen, and later buying boats and weapons with the proceeds of every ship they captured – was "pure survival," says Jhazbhay, explaining that armed extortion is one of the few opportunities to make a living in lawless Somalia.
"It's spiked more recently because of a spike in food prices," he says.
Now it has become a highly profitable, sophisticated criminal enterprise hauling in millions of dollars in ransom payments.
Whom do they work for?
The pirates mainly work for themselves.
Much of the piracy seems to be based out of the Puntland, a semiautonomous region on the northern shore of Somalia that broke away from Somalia soon after 1991.
---