Last-minute shift could jeopardize Congo peace talks
Gen. Laurent Nkunda's rebel group says Congo's move to invite 20 other rebel groups could scupper bilateral talks that began Monday.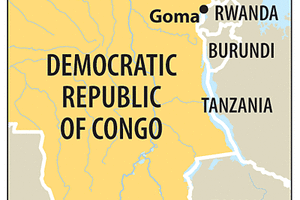 Rich Clabaugh/STAFF
JOHANNESBURG, South Africa; and NAIROBI, Kenya
Talks to end three months of fighting in eastern Democratic Republic of Congo started in Nairobi on Monday, raising hopes that nearly 260,000 internal refugees may finally be able to go home.
The bilateral talks, brokered by United Nations envoy and former Nigerian President Olusegun Obasanjo, are the first positive sign since fighting broke out between Gen. Laurent Nkunda's rebels and government forces, a conflict that has exposed the ineffectiveness of the Congolese Army and stretched the UN peacekeeping force to the breaking point.
A last-minute glitch in the talks between General Nkunda's representatives and the Congolese government still could bring the talks to a precipitous halt. Congo's government announced this weekend that it had invited more than 20 other rebel groups to the talks, a move that Nkunda's spokesman called "impossible" and likely to scupper the talks altogether.
"It could be over, if the government actually gets all these 22 groups on the plane for Nairobi," says Anneke Van Woudenberg, a senior researcher for Human Rights Watch in Brussels.
Of the 22 recognized armed groups in eastern Congo, Nkunda's militia is "the most important, the most significant," adds Ms. Van Woudenberg, a fact demonstrated by their ability to push the Congolese Army around at will and unleash fighting that displaced some 260,000 people in a matter of weeks.
---