Africans join forces to fight the LRA
Southern Sudan, Uganda, and Congo launched operation Lightning Thunder this week to flush the Lord's Resistance Army out of its base in northern Congo.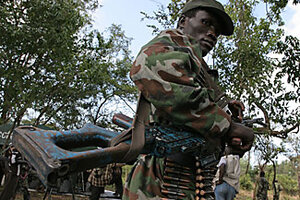 Stuart Price/Getty Images/AFP/NEWSCOM/FILE
Johannesburg, South Africa
Tired of waiting for Ugandan rebel Joseph Kony – leader of the feared Lord's Resistance Army – to come out of the forest to disarm, troops from three African countries this week went into the forest to get him.
The three countries – Uganda, the Democratic Republic of Congo, and Southern Sudan – are unlikely allies and have nurtured differences among themselves that have occasionally led to war. But this time, the common goal of getting rid of Mr. Kony and the LRA overcame their differences.
"The goal was so important we made a deal with the Ugandans, even if we have not always been in agreement in the past," said Lambert Mende, a representative for the Southern Sudanese government, on the second day of the joint operation. "Our three governments decided on a joint strike to eradicate this breeding ground of terrorists who take our people hostage, particularly our children."
It is still too early to know if the joint military operation – launched on Sunday in the forested border region of Congo known as Garamba – will be successful in its goal of routing troops loyal to Kony, whose ragtag militia is blamed for abducting more than 20,000 child soldiers, maiming and killing tens of thousands of civilians, and displacing more than 2 million. Many human rights activists and regional experts warn that a military operation against Kony is only likely to spark more war and retaliation by the remnants, but even critics admit that the joint operation is a positive sign for this corner of Africa where common problems are rarely addressed with common solutions.
---