Piracy raises pressure for new international tack on Somalia
The world is not willing to allow this strategic nation to remain ungoverned. Can a coordinated effort create a stable government?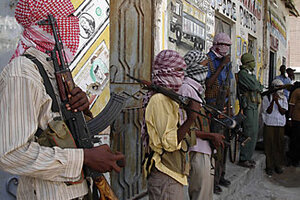 Farah Abdi Warsameh/AP
With Islamist militias in control of much of the country, pirates using Somali coasts to attack commercial ships with ease, and mounting hunger among civilians, Somalia is a failed state begging for new ideas in 2009. US-backed Ethiopian troops who've been propping up an unpopular transitional government are now fleeing the country. Yet as the growing presence of European, American, Indian, and, soon, Chinese navies off the Somali coast show, the world is not willing to allow this strategic nation in the Horn of Africa – with its long coastline along key shipping routes – to remain ungoverned. One of the central questions for 2009: Can a coordinated international effort help create a lasting and stable government?
Who are Somalia's Islamists and what would their return to power mean for the country?
The vast majority of Somalis are Sunni Muslim, and Islam has historically been one of the few things that binds this nation of competing clans into a functioning and stable society. Some of the more fiery Islamist parties – particularly the radical Al Shabab, listed as a terrorist group by the US State Department – have caused regional experts to worry that Somalia could become a jihadi breeding ground, but the majority of Somalia's Islamist parties are more moderate and pragmatic, and eager to prove their governmental abilities.
---