Ghana's new president: Africa's symbol of a working democracy
John Atta Mills took the oath of office Wednesday after a closely contested race.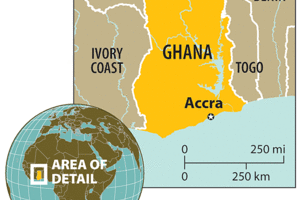 Rich Clabaugh/STAFF
Thousands of Ghanaians packed Independence Square in the capital Wednesday to welcome their new president after an election so close that one small rural constituency held the key to victory for opposition candidate John Atta Mills.
Ghana's orderly transition of power is a bright spot after a dismal year for democracy in Africa. More than 1,000 Kenyans died in violent attacks that followed a disputed election 12 months ago. Kenya's crisis was followed by Zimbabwe's flawed elections, which resulted in a power-sharing agreement that has yet to be implemented. In Mauritania and Guinea, the military seized power from the elected governments.
"The election in Ghana is very important because the year started so badly with the violence in Kenya," says analyst Tom Cargill, assistant head of the Africa Program at the Chatham House, a research group in London. He points out that successful elections were held in Zambia last year, and in Sierra Leone in 2007. "The general trend is in a positive direction and Ghana is a continuation of that," he says.
---