War crimes charges rattle Sudan
The World Court could soon issue an arrest warrant for President Bashir on charges of genocide.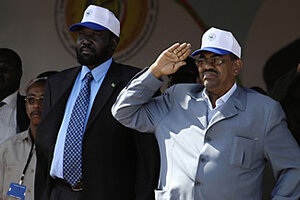 Tim McKulka/Reuters
The arrest late Wednesday night of veteran Sudanese opposition leader Hassan al-Turabi, days after he called on Sudan's President Omar al-Bashir to turn himself in to face war crimes charges, is an indication of what may lie ahead in the capital, Khartoum.
The mood here has been growing increasingly tense since July, when the chief prosecutor of the International Criminal Court (ICC) sought an arrest warrant for Mr. Bashir on charges of genocide, war crimes, and crimes against humanity for his role in the Darfur conflict, which has killed up to 300,000 people and displaced close to 3 million others, according to United Nations estimates.
People here have been bracing themselves for a number of possible outcomes if the court decides to grant the warrant, as expected, in late January or February. "Anything is possible," as one Western diplomat put it.
Among the most pressing concerns is that an indictment of the notoriously volatile country's sitting president could worsen the war in the troubled Darfur region and jeopardize the tenuous peace between Sudan's Arab-dominated north and its Christian and animist south.
A possible coup?
A coup by members of Bashir's inner circle or Mr. Turabi himself – formerly a close Bashir ally until a split between him and the president in 1999 – is also among the possible scenarios.
Turabi says a coup is unlikely, but doesn't rule out the possibility. "Of course, there are all those suspicions," he told the Monitor in a recent interview before his arrest. "All these stories are being circulated."
---