Will Rwandan troops help in Congo?
More than 2,000 Rwandan troops entered Congo Tuesday to help hunt down Hutu rebels who are blamed for the 1994 genocide of about 800,000 Rwandan Tutsis.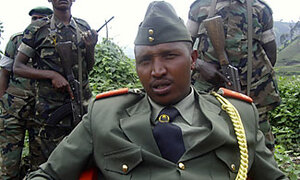 Abdul Ndemere/Reuters
Just weeks after inviting Ugandan forces onto its soil to finish off the Ugandan rebel group called the Lord's Resistance Army, the Democratic Republic of Congo has now invited Rwanda's army – its longtime rival – to come into Congo to hunt down Rwandan Hutu rebels blamed for the 1994 genocide.
By Tuesday evening, more than 2,000 Rwandan troops had entered Congo's North Kivu Province for a joint operation against the Hutu-led FDLR rebel group.
Officially, Congolese authorities proclaimed that the operation would last for 10 to 15 days – and would rely heavily on a Congolese Tutsi militia to spearhead the attacks – but given the FDLR's habit of integrating with local communities in dense jungles, such an operation is likely to take much longer and create high numbers of civilian casualties.
"I think everyone agrees that the FDLR has to be dealt with, but the question is whether this kind of operation will do the job," says Anneke van Woudenberg, a Congo expert with Human Rights Watch, who has just finished a fact-finding mission in the DRC. "I don't think anyone believes the FDLR problem will be resolved in 10 to 15 days, but it will likely result in high civilian casualties."
---