Rwanda-Congo move isolates UN mission
Last week's deployment of Rwandan troops to fight rebels in Congo caught the 17,000-strong UN mission by surprise.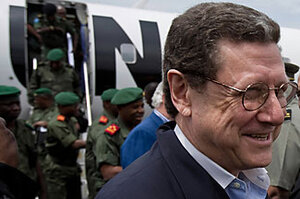 T.J. Kirkpatrick/AP
Deploying a mere 3,500 soldiers, one of Africa's smallest countries last week called into question the relevance of the world's biggest United Nations peacekeeping force.
Rwanda moved the soldiers across its western border with the Democratic Republic of Congo without notifying the 17,000-strong, $1 billion-per-year UN peacekeeping force (MONUC), which is supposed to broker calm, protect civilians, and maintain dialogue with the rebel groups and the governments of Congo and Rwanda, all of whom have a stake in the outcome of the conflict.
Rwanda disrupted that dialogue last week, deploying its troops as part of a secret deal with Congo's President Joseph Kabila to launch joint operations against one of the region's major rebel groups.
"The special envoys in the region, the international community, MONUC, – we did not get any official warning. We were not informed," says Roeland van de Geer, the European Union's special representative to the Great Lakes region.
Mr. Van de Geer says the lack of information was not an oversight but a deliberate move by two former enemies who have found in the past few weeks an alliance more useful than cooperation with the UN.
"[T]he region wants to do it itself," van de Geer says. "They've lost confidence in the UN."
Goal: Root out the Hutu militia
The Tutsi-dominated government of Rwanda wants to dissolve the Democratic Liberation Forces of Rwanda (FDLR), a Hutu-led armed militia of 6,000 whose leadership is accused of having planned the 1994 Rwandan genocide of more than 800,000 Tutsis and moderate Hutus.
---