Meet South Africa's top shark spotter
Patrick Davids left behind a life plagued by alcoholism and drug addiction to keep swimmers and surfers safe along one of the world's most perilous coastlines.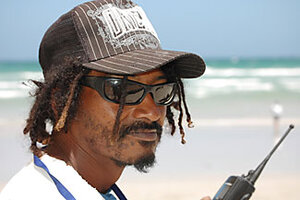 Ian Evans
Like a predator stalking his prey, Patrick Davids's eyes rarely stray from the choppy green sea, and his radio is always at the ready.
While the assortment of sunbathers, swimmers, and surfers may not know his name, they know what he does and that one day they may owe him their lives.
Mr. Davids, or "Rasta" as he is better known, is a shark spotter who helped set up one of the world's only shark-monitoring units along beaches in Cape Town, South Africa.
From a cramped beach hut, Davids has helped build up a network of full-time shark spotters on nine beaches, watching over one of the world's most shark-infested shorelines.
Nearly seven years ago, the former alcoholic and drug addict was chased out of his Cape Town suburb by vengeful gangsters after falling into debt from his drug habits. He fled to nearby Muizenberg Beach, where he scratched out a living as a car guard.
"My parents didn't know where I was for two years – and they couldn't know, because the gangsters were after me," says Davids. "I was in big trouble, and I was drinking and smoking too much. I was homeless and looking in [garbage] bins for food."
But after two years, his car-guarding career was about to change. In April 2004, a local teen, J.P. Andrews, was attacked by a great white shark while surfing off Muizenberg. Doctors pronounced him dead on the beach – but his life was saved, though he lost his right leg.
The effect on local businesses was profound as people stayed out of the water and off the beaches.
Start of Davids's shark-spotting 'career'
Two weeks after the attack, a local surfer gave Davids some binoculars and asked him to scale a nearby mountain to keep a lookout.
---