Brutal retreat of LRA rebels in Congo
The joint mission to finish off the notorious Lord's Resistance Army has led to more than 900 deaths and displaced more than 1,330 civilians since it began nearly two months ago.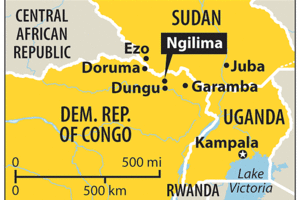 Rich Clabaugh/STAFF
Ngilima, Democratic Republic of Congo
Nelson Ngamu is so weak that he can barely stand up.
Up until he was captured by Congolese troops three days earlier, Mr. Ngamu was a foot soldier in one of Africa's most brutal rebel groups, the Lord's Resistance Army (LRA). He was abducted from his village in South Sudan at age 12. After watching LRA rebels kill his family, over the next 11 years, he was transformed from a prepubescent farmer's son into a confessed murderer.
Now, nearly two months after a US-backed military mission to finish off the LRA, Sudanese, Congolese, and Ugandan commanders of the joint operation say the rebels are slowly starving to death, losing contact with their leadership, and running out of ammunition. But fresh details from soldiers involved in the operation, former LRA abductees, and local villagers reveal that success is coming at a heavy price.
Since a Dec. 14 Ugandan airstrike on LRA bases in northeastern Congo, Ngamu and hundreds of other fighters from the LRA have butchered, bludgeoned, and burned their way across an area the size of Belgium. More than 900 people are estimated to have been killed, most of them hacked to death with machetes or beaten by clubs. Hundreds of children have been abducted and 133,000 people have fled their homes, the UN says.
---