Kenyan school offers Somali refugees a modern – and moderate – education
Fathu Rahman Primary School is a rare source of moderate Islamic values in a community riven by war.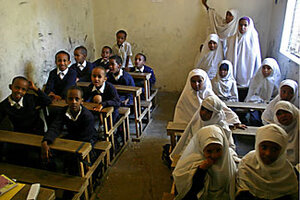 Scott Baldauf/The Christian Science Monitor
Nestled in a quiet little compound in the gritty, noisy streets of Eastleigh – a suburb of Nairobi – Fathu Rahman Primary School looks like any other public school in Kenya.
Its students – all Somali refugees – learn a mixture of secular subjects like math, science, and English, along with a more traditional dose of spirituality, including classes on the Koran. In a refugee community displaced by war and famine, divided by clan identity, and preyed upon by brutal warlords and radical Islamists alike, Fathu Rahman is a gentle reminder of what Somali society used to be like – tolerant, peaceful, pragmatic – and what its founders hope it can be once more.
"This is a battle for the minds of Somali children," says Sheikh Mohammad Moallem Hussein, a moderate Islamic cleric and principal of Fathu Rahman. As an Islamic scholar and practitioner of Islam's Sufi sect, which emphasizes a deeply emotional and personal love for God, Sheikh Hussein worries that Somalia's Sufic culture is fast being replaced by alien teaching, particularly the Salafist teaching espoused by militants like Osama bin Laden.
"We are trying to pull back the students from the Salafist-sponsored schools, which used to be the only education that poor Somali children could afford, but we are small and we have little money," he says. "This is just one school, and they [the radical Islamists] have so many madrassas. That is why we have to expand. To save our culture."
---