Darfuris flee on eve of Bashir case
More than 50,000 people have fled government and rebel attacks in Darfur in recent weeks. The International Criminal Court could issue an arrest warrant for President Bashir on Wednesday.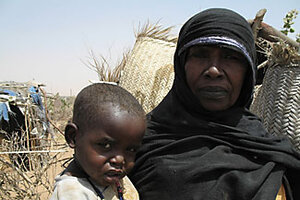 Rob Crilly
Six years after the start of Darfur's messy conflict and days before Sudanese President Omar al-Bashir is expected to be charged with war crimes, the steady stream of people arriving at the region's aid camps is a reminder of the scale of humanitarian crisis in Darfur.
A United Nations-led military force is on the ground. Government officials are subject to international sanctions and the world is demanding action.
Yet people like Yacoub Suleiman Hari are still staring death in the face, forced to flee their homes after recent attacks by the notorious government-backed Arab janjaweed militia.
He is one of 50,000 people displaced from the town of Muhajiriya in South Darfur after a rebel advance followed up by government and janjaweed reprisals in February.
More than 23,000 have trudged and trucked their way to the capital of North Darfur, filling already overstretched aid camps to the breaking point.
Thousands more have been arriving in Otash, on the outskirts of Nyala, the capital of South Darfur.
"We knew something like this was going to happen. We had been afraid for a long time," said Mr. Suleiman, as he put the finishing touches on his new home, a simple hut built from sticks covered with reed mats – a gift from his brother.
"Things had been very difficult with lots of small fighting," he says. "Then the janjaweed came and attacked our home."
More than 300,000 people have died and more than 2.5 million people have been displaced since the conflict in Sudan's troubled Darfur region broke out after rebels took up arms against the government in 2003.
---