War crimes warrant for Bashir risks sparking unrest in Sudan
The International Criminal Court issued an arrest warrant Wednesday for President Omar al-Bashir on charges of war crimes and crimes against humanity.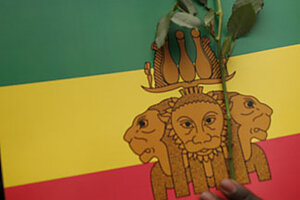 Jerry Lampen/Reuters
JOHANNESBURG, South Africa
Sudan's President Omar al-Bashir on Wednesday became the first sitting head of state to be charged with war crimes and crimes against humanity.
In a controversial landmark ruling, the International Criminal Court (ICC) issued an arrest warrant for Mr. Bashir for a range of crimes, including the attempt to destroy ethnic groups deemed to be supporting rebel factions in Sudan's troubled Darfur region.
"He is suspected of being criminally responsible ... for intentionally directing attacks against an important part of the civilian population ... murdering, exterminating, raping, torturing, and forcibly transferring large numbers of civilians, and pillaging their property," said ICC spokeswoman Laurence Blairon.
Critics worry the warrant could worsen Sudan's deadly conflicts and raises issues of double standards. Still, it's a potent symbol for the victims of the crisis in Darfur.
"This is a significant step for the hundreds of thousands of victims of conflict in the past six years," says Ariela Blatter, senior director for international programs at Amnesty International in Washington. "The fact that the ICC issued an arrest warrant for a sitting head of state is a signal to Bashir that there is no 'get out of jail free card' here."
---