In soccer, Somalis find a link to home
The national team unites a scattered diaspora and provides a reason to cheer for war-torn Somalia.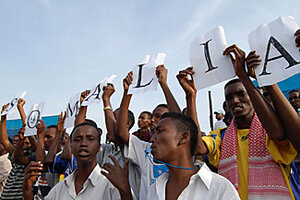 Max Delany
For all of his adult life, Ahmed Mohamed Farah has only seen the country he represents in news footage of war, killings, and starvation. Now studying for a business degree at Carleton University in Ottawa, Mr. Farah says it was a strange feeling the first time he pulled on the national soccer jersey of his distant homeland: Somalia.
Fourteen years ago, Farah and his family fled the spiraling fighting in Somalia, heading to the Middle East before ending up in Canada. After being spotted by scouts at a Somali football tournament in Toronto last year, he was tapped to play for the national team – nicknamed the Ocean Stars – in a recent regional championship in Uganda. But he won't be heading back to Somalia anytime soon.
---