Why 10,000 Ugandans are eagerly serving in Iraq
Thousands of men and women from poverty-stricken Uganda risk their lives for $600 a month in Iraq.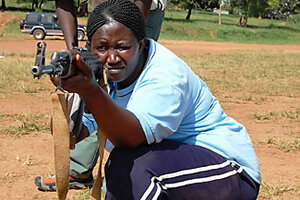 Max Delany
Under a relentless equatorial sun and the gaze of her Zimbabwean instructor, Juliet Kituye quickly reassembles her AK-47. Next to her, a young man in a ripped red T-shirt discharges imaginary rounds at an invisible target.
On a disused soccer pitch in the suburbs of the Ugandan capital, Kampala, 300 hopefuls are being put through rudimentary firearms training. Many of the recruits are raw and their drills occasionally lurch towards slapstick. One trainee lets the magazine slip out of his automatic rifle and onto the red earth, someone else about turns right instead of left. All of them share the same dream, however: going to Iraq.
As President Barack Obama announces plans to withdraw US troops from Iraq, thousands of young Ugandans are increasingly desperate to be sent to the war-torn country. Already, the Ugandan government says there are more than 10,000 men and women from this poverty-stricken East African nation working as private security guards in Iraq. Hired out to multibillion-dollar companies for hundreds of dollars a month, they risk their lives seeking fortunes protecting US Army bases, airports, and oil firms.
---