Kidnapping aid workers: part of Sudan's strategy?
Three Western aid workers were released Saturday. The government denies involvement but some analysts see a broader strategy at work.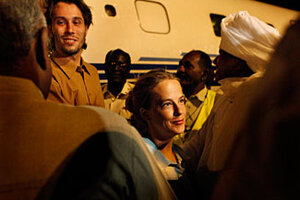 Nasser Nasser/AP
The kidnapping of three Western aid workers in Sudan's Darfur region marks a significant escalation of insecurity for relief agencies deployed in the conflict-ridden area.
Canadian nurse Laura Archer, Italian doctor Mauro D'Ascanio, and French coordinator Raphaël Meunier, as well as their Sudanese watchman Sharif Mohamadin, all working for Médecins Sans Frontières, or Doctors Without Borders, were safely released Saturday by unknown gunmen after three days in captivity.
A rebel leader and analysts say the kidnapping and recent expulsion of 13 aid groups are part of a government strategy to scare away remaining aid workers and break up camps housing Sudanese civilians who have fled the war.
"This is the plan of Khartoum," the capital and seat of the Sudanese government, says Abdul Wahid al-Nour, the founder of the Sudan Liberation Movement, one of several rebel factions in Darfur fighting the government over claims that their people have been marginalized. Mr. Nour says the government is trying to force nongovernmental organizations out – "either by expelling them directly or terrorizing them."
---