Madonna and another Malawi child?
Do international adoptions offer better lives for orphans? Judge delays ruling on pop singer's adoption application until Friday.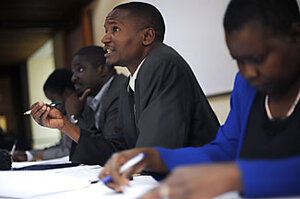 Riccardo Gangale/AP
JOHANNESBURG AND LILONGWE, MALAWI
Two years after adopting a Malawian orphan, under a storm of controversy over alleged favorable treatment – American popstar Madonna is back in Malawi, to adopt a baby girl.
Even before her arrival on Sunday, Madonna's ambition to adopt had already kicked up enough coverage to prompt the spokesman of Save the Children UK to ask the singer to "think twice."
"International adoption can actually exacerbate the problem it hopes to solve," said Dominic Nutt, Save the Children's UK spokesman. "The very existence of orphanages encourages poor parents to abandon children in the hope that they will have a better life."
While no one accuses Madonna of doing anything illegal in adopting the 4-year-old girl, reportedly named Mercy, there are questions nonetheless about how Madonna is able to navigate Malawi's 18-to-24 month vetting period in just a matter of days or weeks. But the larger issue, child-rights advocates say, is whether international adoptions are in the best interests of the child.
"Our policy is fairly consistent with that of Save the Children's," says Shantha Bloemen, Johannesburg-based spokesperson for UNICEF, the UN Children's Fund. "Basically, with weak systems of government, such as in Malawi, there is a possibility of abuse of the system. Also, we encourage intracountry adoption, or placement within the extended family. That way, the child grows up with his or her own cultural identity intact.
---