Zimbabwe's 100-day plan to lift economic embargo, court donors
The government says it will ease media ban as part of an effort to reengage with the West. But the US and Europe are dubious.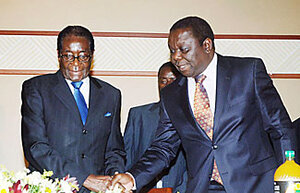 NEWSCOM
On Sunday, at a special three-day conference in a Victoria Falls luxury hotel, Zimbabwe's government ministers said they'd given themselves 100 days to end the nation's international isolation by normalizing relations with the European Union (EU), Britain, the US, and white Commonwealth countries.
"Reengagement of the broader international community, including the US and multilateral institutions, will be a priority of the government in the next 100 days," said Gorden Moyo, minister of state in the office of Prime Minister Morgan Tsvangirai, told Reuters at the conference.
Part of the initiative, also designed to revive the economy, would introduce greater freedom and ownership rules for the news media, improved prison conditions, and a possible new constitution.
In return, the unity government made up of President Robert Mugabe's ZANU-PF party and Mr. Tsvangirai's Movement for Democratic Change is seeking $8.5 billion from international donors for its short-term emergency recovery program.
West looking for real change
But analysts interviewed for this article are skeptical that the plan alone will induce Western donors, who seek evidence of real change within the shattered country, to dispense much aid immediately.
---