Zuma cleared – for now –in arms deal corruption case
Case against South Africa's ANC party leader was tainted by politics, but some say a private suit may follow.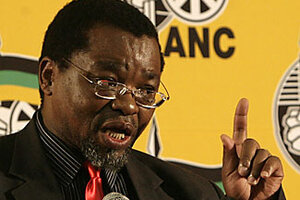 Siphiwe Sibeko/Reuters
Jacob Zuma, the all-but-certain next president of South Africa, won a major pre-election boost Monday when prosecutors dropped corruption charges against him because of tampering by investigators.
The decision ensures that Mr. Zuma won't have to answer allegations of criminal fraud and racketeering stemming from a controversial, multibillion-dollar arms deal dating to the 1990s. The case would have overshadowed the start of Zuma's presidency if, as expected, his governing African National Congress (ANC) party wins elections April 22 and selects him to lead the continent's most powerful country.
The head of the National Prosecuting Authority (NPA) said that his decision was based not on the quality of the government's case, which prosecutors think is strong, but on the emergence of wiretapped conversations from 2007 in which the then-head of special investigations discussed timing the case to increase the political damage to Zuma.
"I have come to the difficult conclusion that it is neither possible nor desirable for the NPA to continue with the prosecution of Mr. Zuma," said Mokotedi Mpshe, the head of the prosecuting authority.
In many ways, the decision creates even greater turmoil for a political system that many South Africans regard as increasingly rotten and a justice system that appears prone to bullying. South Africa is supposed to be a democratic model for the continent, but, two weeks before parliamentary elections that the ANC is projected to win comfortably, critics think that Mr. Mpshe was pressured by party insiders, some of whom have described past efforts to bring Zuma to court as counter to the ANC's long struggle to defeat white apartheid rule.
---