Legacy of Rwanda's genocide: more assertive international justice
Out of 800,000 deaths emerged a new system of justice and more peacekeepers. But will either prove effective or enduring?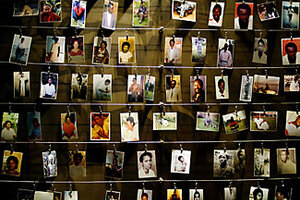 Radu Sigheti/Reuters
Johannesburg, South Africa; and Kigali, Rwanda
Like the Holocaust of Jews and others during World War II – the scale and shame of the world's inaction during the Rwandan genocide still staggers the mind.
Fifteen years ago today, men and women picked up machetes and murdered their neighbors by the hundreds of thousands. And the world watched. The 100-day massacre has since inspired books and Hollywood movies, and left a mark on the global conscience, prompting international campaigns for intervention, such as in Darfur.
But perhaps Rwanda's most enduring legacy is found in the arena of international justice and peacekeeping. In The Hague and other venues, judges, prosecutors, investigators, and activists have begun to bring warlords and despots to justice. And organizations, such as the United Nations and the African Union, have asserted themselves more. They've sent blue-helmeted battalions of peacekeepers into active war zones, such as Darfur and the Democratic Republic of Congo (DRC), with stronger mandates to protect civilians.
Historic turning point?
Is international justice and peacekeeping having a deterrent effect on modern despots? That's hard to tell. But many observers still see the Rwandan genocide as a kind of turning point in human history, a chance to change the world.
---