Why the US didn't intervene in the Rwandan genocide
After a disastrous peacekeeping mission in Somalia, the US vowed to stay away from conflicts it didn't understand.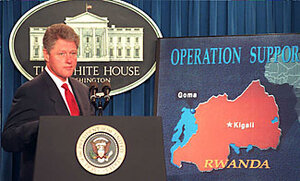 AFP/NEWSCOM/FILE
Johannesburg, South Africa
The Clinton administration and Congress watched the unfolding events in Rwanda in April 1994 in a kind of stupefied horror.
The US had just pulled American troops out of a disastrous peacekeeping mission in Somalia – later made famous in the book "Black Hawk Down" – the year before. It had vowed never to return to a conflict it couldn't understand, between clans and tribes it didn't know, in a country where the US had no national interests.
From embassies and hotels in Kigali, diplomats and humanitarian workers gave daily tolls of the dead, mainly Tutsis but also moderate Hutus who had called for tribal peace. The information came in real time, and many experts say that the US and the Western world in general failed to respond.
'We knew before, during, and after'
"During World War II, much of the full horror of the Holocaust was known after the fact. But in Rwanda, we knew before, during, and after," says Ted Dagne, a researcher at the Congressional Research Service in Washington, who has traveled to Rwanda on fact-finding missions. "We knew, but we didn't want to respond."
In an official letter written as late as June 19, 1994, the then-UN-Secretary General Boutros Boutros-Ghali showed exasperation at the numbers of peacekeepers that member nations were willing to provide.
---