Will pirates join forces with Islamist militias in Somalia?
Escalation of violence could lead pirate gangs to join radical militants, including those with ties to Al Qaeda, say analysts.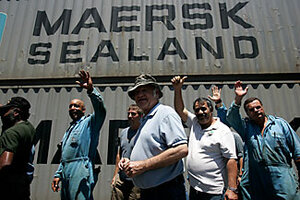 Karel Prinsloo/AP
Johannesburg, South Africa
The four-day hostage ordeal, with Somali pirates holding a US merchant ship captain in a lifeboat, ended in a hail of sniper fire Sunday and the safe return of the captain to his crew.
But the twin rescues this past week by the French and American navies off Somalia are unlikely to end the problem of piracy. Quite the opposite, say analysts. The pirates, they say, are likely to increase their use of violence, and that could lead them into the arms of Somalia's small but powerful Islamist militias for protection and support.
As the crew of the Maersk Alabama celebrated the return of Capt. Richard Phillips Sunday, Somalia's radical Islamists praised the dead or captured pirates as mujahideen, or "holy warriors." Meanwhile, self-described pirates told reporters by cellphone that they would be more violent with hostages next time.
"Every country will be treated the way it treats us," Abdullahi Lami, one of the pirates holding a Greek ship in the central Somali port of Gaan, told the Associated Press by phone. "In the future, America will be the one mourning and crying. We will retaliate for the killings of our men."
Even Vice Adm. William Gortney, head of the US Naval Central Command, told a Pentagon press briefing Sunday, "This could escalate violence in this part of the world, no question about it."
---