Nelson Mandela boosts Zuma at final ANC campaign rally
South Africa's ruling party candidate, Jacob Zuma, vows no constitutional changes ahead of April 22 vote.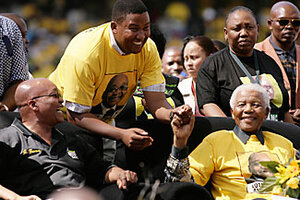 Siphiwe Sibeko/Reuters
Johannesburg, South Africa
Nelson Mandela has always been a hard act to follow.
At an African National Congress (ANC) rally today, ahead of Wednesday's elections, the former president of South Africa and famous political prisoner sparked cheers among the tens of thousands of ANC supporters assembled.
His role at the rally – as it was when Mr. Mandela was the first post-apartheid president – was to reassure South Africans that the ANC government would stand for reconciliation and peace, as well as correcting historic injustices.
The 90-year old Mandela was driven into Coca-Cola Park, a Johannesburg rugby stadium, in a golf cart and helped to the stage by the ANC's presidential candidate, Jacob Zuma.
In a pre-recorded message broadcast at the stadium, the elder statesman reminded ANC voters what their party stood for.
"As we strive to secure a decisive victory for our organisation in the upcoming elections, we must remember our primary task. It is to eradicate poverty and ensure a better life for all," Mandela said.
But unlike the elections of 1994 that made Mandela the first black president of South Africa, the elections on April 22 will be one of the most competitive in the post-apartheid South Africa's brief history.
In past elections, the ANC stood like a colossus over its smaller rivals – from the mainly white liberal Democratic Alliance to the Zulu-based Inkatha Freedom Party to the conservative Afrikaner party, the Freedom Front Plus. But this time, the ballot will give voters the chance to vote for a party that shares the ANC's strong "liberation" credentials, but less of the ANC's negative baggage.
---
Follow Stories Like This
Get the Monitor stories you care about delivered to your inbox.