South Africa set to elect populist Jacob Zuma
The polarizing ANC leader is expected to draw record numbers of voters to the polls in Wednesday's presidential race.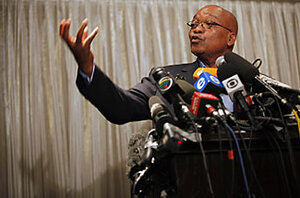 Denis Farrell/AP
Johannesburg, South Africa
Even before they cast ballots on Wednesday, most South Africans feel certain that they know who will be their next president. Barring a dramatic reversal in the polls, the African National Congress will come out on top, with the ANC's populist leader Jacob Zuma set to be the next president.
But far from discouraging voter turnout, the inevitability of Mr. Zuma's presidency seems likely to drive a record turnout of voters, with an estimated 80 percent of 23 million registered voters expected to cast their votes.
Those who love Zuma see a warm, personable, and deeply rooted man who knows what it means to be poor. Those who hate him see a former ANC intelligence chief with a grade school education; a polygamist who was accused and acquitted of rape; a wheeler-dealer accused of bribe-taking, although corruption charges were eventually dropped. Whether to block him or support him, South Africans are expected toshow up in droves to vote.
"Despite the fact that we already know who is going to be a winner, this is an important election," says Steven Friedman, a political analyst at the Institute for Democracy in Southern Africa, a think tank in Tshwane, formerly known as Pretoria. This could be the highest voter turnout since the end of apartheid in 1994, Mr. Friedman says, and a sign of whether the ANC's hold on power – as the party of Nelson Mandela and liberation – is finally starting to slip.
---