Soldier pay threatens to undo Congo's progress against rebels
Many soldiers haven't seen wages for months. Meanwhile, a Hutu militia is increasing attacks on civilians in response to the military offensive.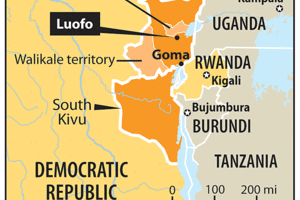 Rich Clabaugh/Staff
Luofo, Democratic Republic of Congo
"You see how I am, I cannot fight again," says Mukalayi Senga, a bed-ridden Congolese government soldier, his lower right leg heavily bandaged after it was shattered by a misdirected mortar. "With the small money the Army gave me, I was not able to pay for my children's school fees. Now, I don't know how I will be able to take care of my family at all."
The experience of Mr. Senga is far from unique. He is one of many government soldiers injured recently in operations against the Democratic Forces for the Liberation of Rwanda (FDLR), an extremist Hutu militia. But he is one of the fortunate ones. He was flown out of the battle zone to a United Nations military hospital in Goma, a provincial capital. And he was being paid.
Many troops on the front line have not received wages for months, even in the midst of a UN-sponsored offensive against the Hutu fighters exiled from neighboring Rwanda. 
The Congoglese Army's month-long joint offensive with Rwandan troops – invited across the border in a surprise bilateral deal in January – had the FDLR on the run. But now, the desperate militia is terrorizing tribes it had previously lived with peacefully, killing scores of civilians and displacing tens of thousands. Security officials, diplomats, and aid workers are becoming increasingly concerned that lack of payment for soldiers could worsen already low morale and undo recent progress toward rooting out the Hutu militiamen.
---