Somali government encircled by hardline Islamists
After five days of assault by better-armed Al Shabab militiamen, pro-government fighters have apparently begun to retreat.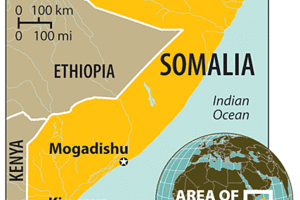 Rich Claubaugh/ Staff
Somali Islamist leader and onetime president Sheikh Dahir Aweys has launched what appears to be a final assault on the fragile Somali transitional government.
Five days of fighting, including heavy shelling, have left dozens dead, almost certainly ending hopes for negotiations to potentially win over Sheikh Aweys's support for, and inclusion in, the moderate Islamist government of president Sheikh Sharif Ahmed. Both men had served in the short-lived Union of Islamic Courts (UIC) government of 2006, before it was removed by an Ethiopian military intervention.
The assault casts serious doubt over the survival of the Sharif government, just days after international donors pledged $213 million to support it. At present, forces loyal to Sharif control roughly 25 city blocks in Mogadishu, including the presidential palace. About 4,000 African Union peacekeeping troops also protect the Sharif government, the seaport, and the Mogadishu airport.
"There is no doubt Aweys wants a military solution. He wants to dislodge Sharif," says Rashid Abdi, an expert on Somalia for the International Crisis Group in Nairobi. "They're shelling the presidential palace and parts of the airport. This is looking like the final assault."
---