In Kenya, white aristocrat's prison sentence brings noisy protest
The murder case against Thomas Cholmondeley exposed rifts of class and race. Imprisoned already for three years, he received eight months in prison.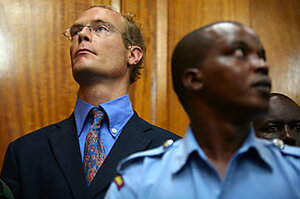 Thomas Mukoya/ Reuters
Noisy protests erupted in a packed courtroom today when Thomas Cholmondeley, heir to Kenya's best-known white settler family, was given an eight-month sentence for the manslaughter of a black poacher shot on his family estate in 2006.
"I hereby sentence the accused to eight months in prison," declared Judge Muga Apondi to the wood-paneled and high-ceilinged courtroom jammed with journalists and spectators where the drama has played out for the past three years.
Immediately, protesters in the public gallery unfurled banners reading "Butcher of Naivasha," and began chanting in Kiswahili, the local language. The anger reveals the rifts of race and wealth that run through Kenyan society.
On the street outside the Nairobi High Court one man, who would not give his name, said: "If it was a black man, the sentence would have been different. It is the color and the origins of this man. It is in insult! But it is justice the Kenyan way," he added, alluding to the failings that many see in Kenya's judicial system.
Mr. Cholmondeley's defense lawyer Fred Ojiambo called it "a just sentence." The public prosecutor said he would launch an appeal, calling the sentence "far too lenient."
A fatal encounter on his estate
The controversial case is more than three years old.
On the evening of May 10, 2006, while out walking with a friend on the family's 56,000-acre Soysambu estate, Cholmondeley bumped into a gang of poachers.
---