Somalia: East African bloc calls for a UN blockade and no-fly zone
The group wants to prevent Islamist militias from getting arms. Meanwhile, Ethiopia's apparent renewed involvement in support of the government carries risks.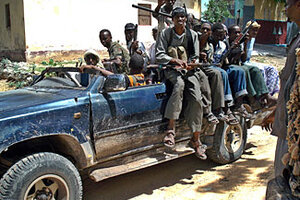 Abdirashid Abdulle/AFP/Newscom
Johannesburg, South Africa
Somalia's fragile government began to push back against its armed Islamist opponents Friday in Mogadishu in heavy street fighting. It's the first sign that the transitional government of President Sheikh Sharif Ahmed's efforts to reach out to unaligned warlords and Islamist militias is beginning to pay off, and that his enemies, the radical Al Shabab, may have stretched themselves too thin with their ambitious assault.
In Mogadishu, government spokesman Farhan Mahdi Mohamed told Agence France-Presse news agency that the government had begun to take away key parts of Mogadishu from the militias of Al Shabab and Hizb Islamiya.
"This is a large military offensive against violent people," Mr. Mohamed said. "The government will sweep them out of the capital and the fighting will continue until that happens."
The intense fighting in Mogadishu comes at a time when Somalia's neighbors – and in particular Ethiopia – are increasingly being drawn into the Somali conflict, both diplomatically and militarily.
Calls for blockade, no-fly zone
An East African bloc, the Intergovernmental Authority on Development, has called for a United Nations blockade and no-fly zone to prevent Islamist militias from receiving arms from their backers, including Eritrea.
---