Cheers in Nigeria after Shell agrees to pay $15.5 million
Despite the settlement, the oil firm denies complicity in the former military government's execution of antidrilling activists in the mid-1990s. Activists say the case is 'an important first step' toward justice in the region.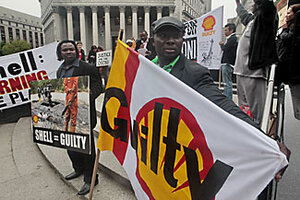 Bebeto Maathew/AP
Johannesburg, South Africa
Royal Dutch Shell oil company's decision to settle a multimillion-dollar civil suit with the families of executed Nigerian activists is bringing a mixture of cheers and relief.
As part of the out-of-court settlement mediated in New York City, Shell has agreed to pay $15.5 million to the families of environmental activists in Nigeria's oil-rich Niger Delta region, including that of author Ken Saro-Wiwa. The families had alleged that Shell had provided arms to the Nigerian government for the repression of the Ogoni people, who live in areas where Shell was operating.
Shell says it welcomes the settlement as the beginning of a "reconciliation" process, but denies the allegations lodged against it.
"Shell has always maintained the allegations were false," says Malcolm Brinded, Shell's chief spokesman. "While we were prepared to go to court to clear our name, we believe the right way forward is to focus on the future for the Ogoni people, which is important for peace and stability in the region."
By paying $15.5 million to the families of the nine Ogoni activists, Shell "acknowledges that, even though Shell had no part in the violence that took place, the plaintiffs and others have suffered," Mr. Brinded says.
Closure for a long legal battle?
---