Aid groups return to Darfur – with new names
The decision by Mercy Corps, Care, and others to go back to Sudan's troubled region after being kicked out in March opens fresh debate over how to deliver aid to people living under oppressive regimes.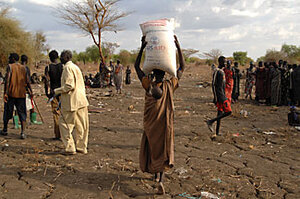 Tim McKulka/UNMIS/ AFP/NEWSCOM/FILE
First, they were returning. In a statement last week, the United Nations chief humanitarian official said four aid agencies expelled from Darfur in March for "spying" had been given permission to come back to the wartorn region of Sudan, where more than 4 million people depend on help.
Then they were not.
Over the weekend, the Sudanese government said that it would not allow to return any of the 13 international groups kicked out as part of Khartoum's retaliation against the International Criminal Court's decision to issue a warrant for the arrest of President Omar al-Bashir.
Instead, the groups would have to register as new agencies in order to operate in Darfur. Critics say that is a cynical ploy by Khartoum to use the aid groups to help limit Darfur death tolls, while at the same time tightening the already firm limits on their freedom of speech and action.
Both Mercy Corps and Care have played along by releasing statements that they were not returning. Rather, Mercy Corps Scotland and Care Switzerland applied to work in the country.
---